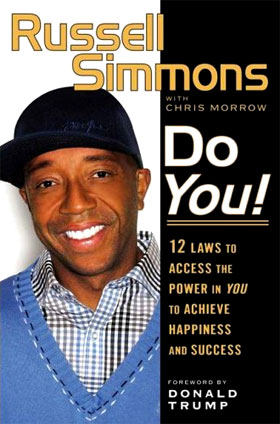 See Your Vision and Stick With It
Hello everyone. Happy reading to you guys. I hope you guys bought a copy of this. Like I said before, Russell Simmons book
Do You! 12 Laws to Access the Power in You to Achieve Happiness and Success
was my November 2009 book selection.
I have been thinking about bringing everyone back to reading. This is the second book I've chosen. I am not going to reveal the whole chapter. It's better if I describe it and let you guys read the book instead.
In this chapter, he discusses that if we have a dream, we must see it clearly and then stick with it. This is something that I have stuck with for a long time. Growing up, we begin to explore the world and figure what we want to do in life. Then once we figure out we want to do, we focus on our craft and then build up our knowledge.
I have been like that for a very long time. When I was little, there were so many things I wanted to do. I thought about being a professional soccer player. I was a fan of the game, and wanted to do everything I can to be that.
Then I gave up sports because I fell in love with the performing arts. Then I said I wanted to be a singer and actor. I still do, but more than one career has clouded my head: acting, modeling, writing (books, magazines, newspapers, songs, screenplays), talk show host, blogger, and promoter. Ever since then, I have kept these careers in my mind, and I know that these are the things I want to do.
Of course, there are going to be people who says "There is no way you are going to be that? Boy, you must be crazy. You might as well give up. You're not meant to be that." Don't believe in that crap. I have dealt with that for 18 years. I even have to deal with that from my own parents. That's why it's sad that we don't have a close relationship anymore.
Whatever the reason, See Your Vision and Stick With It. This is my overview of the chapter. If you want more, read this chapter. I will update you guys on chapter two in two days. And if you don't have this book, buy your own copy or check it out from the library.