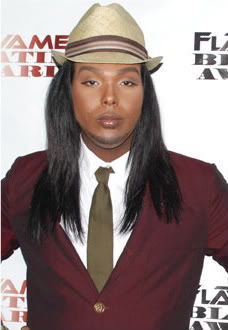 I am so sad to report news that I have prayed was not true all day… The Future Forward's friend and fellow gaylebrity Dariel Pulliam has passed away on today and he will be greatly missed. I have many memories of Dariel Pulliam; however the one that I will cherish the most is of him giving me love advice over frozen drinks at BBQ's. Dariel you showed me so much love when presenting at the 2010 Blatino Awards and being the first presenter to show up on time and beat from head to toe really showed your professional attitude and passion for others… You will be greatly missed; however I know that you are with our father looking down on us all. I love you my brother, my friend, and fellow STAR!
Please check out the fun interview I did with Dariel on last summer, I had such a great time with him.
Also please lend a hand by assisting his family with his burial at:
PO BOX 47001 Windsor Mill, MD 21244
For More Details contact: Sparkle for Trio Management sparkle@trioent.com Our prayers and thoughts are with Dariel Pulliam's family, friends, and loved ones!
If you knew where I am standing... If you could see the sights I see... If you could hear the angels singing... The songs they sing eternally... If you knew the One I'm holding... Could see the smile He smiles at me... If you knew where I am resting... You would not cry for me... I'm resting in the precious arms of Jesus... No other place would I rather be... So if you shed a tear, Please don't shed it for me... If you knew where I am resting... You would not cry for me... I know you're confused about my leaving you so soon... But I'll be with you again... Maybe morning, night or noon... So I'll save a place for you.... Right beside the crystal sea... If you knew where my mansion's standing... You would not cry for me